You use Google Chrome, so do 1 billion other people.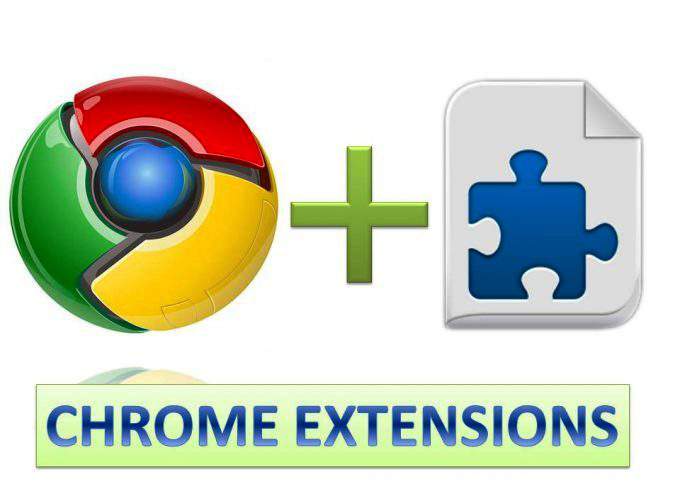 And you write blog posts, so do around 173 M billion other people.
What is the difference?
Can you exploit Google Chrome to get better at blogging?
If not, then you are at the right place. This blog talks about the top 5 Google Chrome extension that every blogger must have to enhance their blogging skills.
After reading this post, you will be able to use these extensions to take your blogging skills to a whole new level.
As rightly said by Neil Patel in his blog post,
"The truth is that writing a compelling blog post that drives traffic and leads is no easy task. Sure, you can easily churn out 300 – 500 word generic blog posts that won't impact anyone."
You should use everything that you have at your disposal to write a great post.
Here is a list of top 5 Google chrome extension that can really sharpen your blogging skills:
Google Dictionary (By Google)

As a blogger, you need to research extensively about different topics. The Google dictionary extension will come handy in the research.
Once you have added this extension to your browser, you can find the meaning of any word from the page you are reading.
The best part?
You won't have to leave the webpage to find out the meaning of any word. What you have to do is to double click the word, and Google dictionary will define that word right there.
What's more, it will provide you with the pronunciation of that word as well.
By clicking on the dictionary option in the browser toolbar, you can choose extension options.
So what are you waiting for? Get this extension and quickly know the meanings of difficult words you come across on the web page you are scanning.  
Grammarly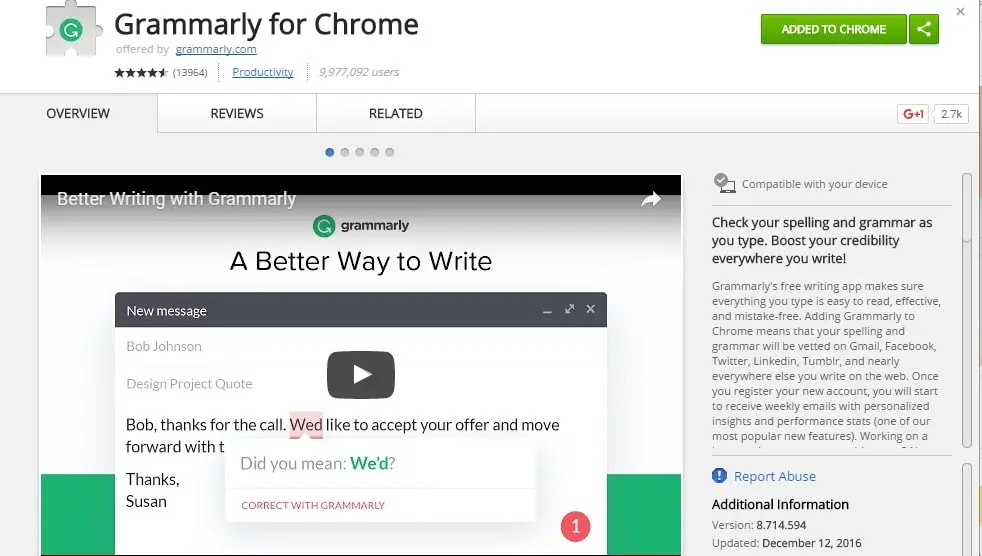 Jeffrey Gitomer said once,
"Your grammar is a reflection of your image. Good or bad, you have made an impression. And like all impressions, you are in total control."
Of course, you are in the control. And to claim your control, you won't have to go to your High School English teacher.
What you need to do is to install the Grammarly extension in your Google Chrome toolbar. This useful add-on can fix hundreds of complex grammatical errors, which include article use, subject-verb agreement, modifier placement, and more.  
The best thing about Grammarly is that it comes with a contextual spelling checker, enabling you to avoid embarrassing mistakes, such as loose/lose, affect/effect, etc.
The basic version of this software is free. If you want to supercharge your grammar skill, you should go for a paid version.
Grammarly offers a one-month free trial. So you can try it before buy it.
Awesome Screenshot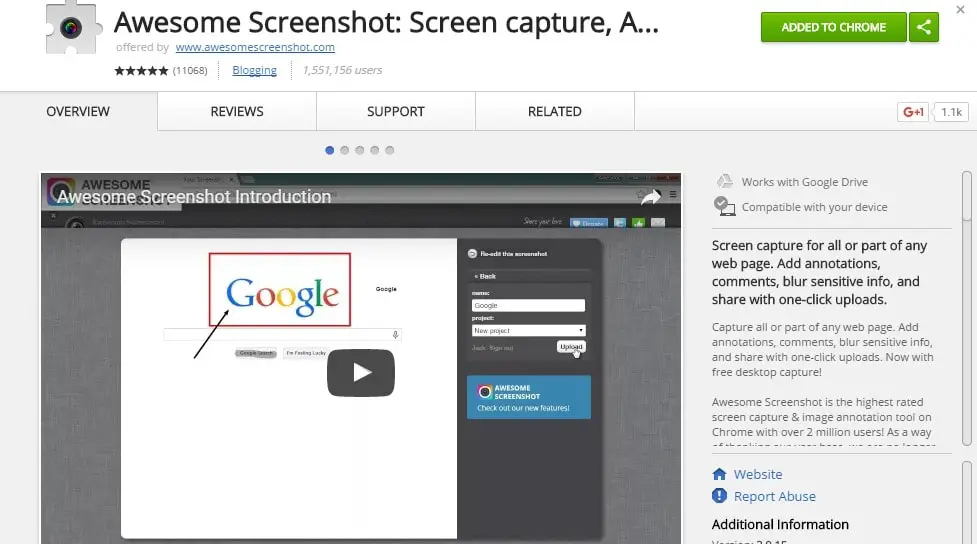 This is one of the extension to take screenshots. As a blogger, you will need to capture screen and edit it as per your needs. This easy-to-use extension offers screen capturing for all or part of any web page.
It also enables you to add annotations, comments, blur sensitive info, and share with one-click uploads.
Awesome Screenshot is the highest rated screen capture & image annotation tool on Chrome.
The best thing about Awesome Screenshot is that it supports PNG format and supports horizontal scrolling during capturing.
Get this extension and start including awesome screenshots in your blog post.
Pocket

You are in the middle of an interesting article, and suddenly something comes up, forcing you to leave your cozy corner. What will you do?
Will you put your laptop on the sleep mode? Or will you turn its power off?
If you turn its power off, you will lose the article. And you won't keep your laptop in sleep mode or hibernate mode as you are worried about its battery life. Then, what?
There is another way – you can save your favorite articles in Pocket.
Oh no, not in the pocket of your shirt. I'm talking about Pocket Chrome extension. This useful extension allows you to save any article for future reading.
A great thing about this extension is it automatically syncs to your phone and tablet or computer so you can read articles later.
Ginger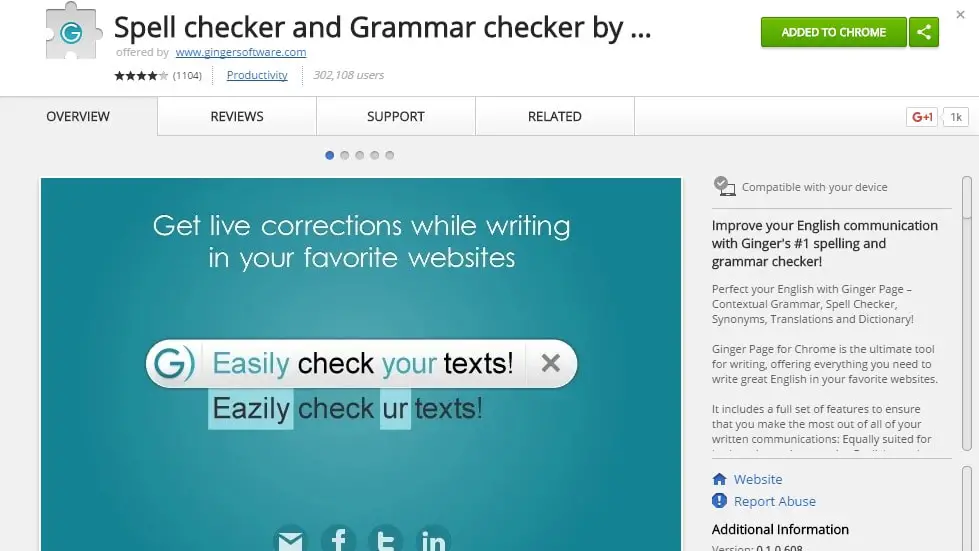 Ginger is another grammar checker. It helps you write better English. It corrects grammatical mistakes, spelling mistakes, misused words with a higher accuracy.
This grammar check software application improves your text almost like a human reviewer.
Ginger corrects subject-verb agreement, singular plural nouns, consecutive nouns, misused words, contextual spelling, and more.
You might be thinking that why you need another grammar checker. The answer is simple. Ginger will catch many errors that go unnoticed in Grammarly or vice versa.
Like Grammarly, you can also try Ginger before you buy it. Ginger is equally suited for native and non-native English writers.
Get Ginger extension and start writing in the perfect grammar.
Bonus: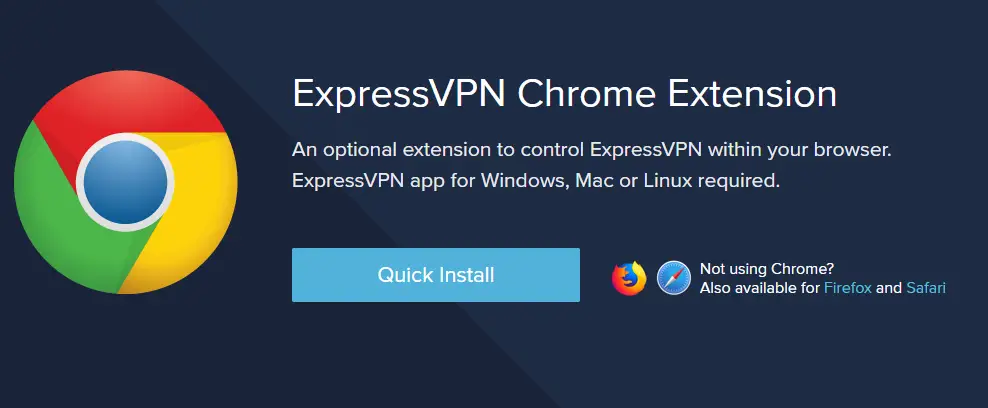 When bloggers and writers are doing research or traveling, the need may rise to unblock websites and surf the web anonymously. A good VPN comes handy in doing these tasks. You can download ExpressVPN Chrome extension, which will provide you with 148 VPN locations. ExpressVPN offers money-back guarantee.
Conclusion:
Blogging is never easy. You need to make consistent efforts for achieving success. You should make the best use of technology to write an engaging post. Google Dictionary, Grammarly, Awesome Screenshot, Pocket, and Ginger are great Chrome extensions for bloggers and will certainly take your blogging to the next level.
In my next post,  121 Proven Blogging Tips That Every Blogger Must Know in 2017, I have given 121 practical tips that will certainly help you write great posts in 2017.
What about you?
Which Chrome extension do you want to add to this list for blogging?
Do share your thought in the comment section.
I'd love to hear about it.
Like this post, please do share it on your social channels.